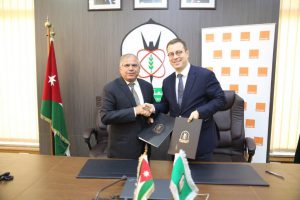 Orange Jordan recently announced the renewal of its partnership agreement with Yarmouk University (YU) through which it will continue to support the Orange Yarmouk Innovation Lab (OYIL) located at YU's Hijjawi Faculty for Engineering Technology.
The agreement was signed by Orange Jordan's CEO Jérôme Hénique, President of Yarmouk University Dr. Rifaat Al-Faouri in the presence of executives from both parties.
During the signing agreement, Orange Jordan congratulated the students who have completed their training with the company and welcomed the new batch of the top students who will work under the direct support and supervision of the OYIL team to complete their final semester while getting hands-on training on the latest technologies in the telecommunications world.
Hénique expressed his pleasure in renewing the strategic partnership with the University. He also pointed out that the laboratory has helped prepare and qualify a large number of students to enter the labor market and enabled them to attain their dream professions by improving their expertise and training in three main areas which include: cellular applications, games and websites, in addition to the investment made to furnish the laboratory with the necessary equipment, and the development of devices, licenses and patents.
Hénique said: "The renewal of our fruitful partnership with Yarmouk University comes in line with supporting its noble mission of preparing the talented Jordanian youth, who are capable of achieving a knowledge-based economy by training them to acquire skills and competencies that give them the opportunity to join Oasis 500 program and later on BIG accelerator program."
He added that Orange Jordan will continue to support the university not only through training students, but also by providing the laboratory with advanced equipment, tools and telecommunication services to enrich and enhance the students' experience and provide them with the necessary skills for the future.
In line with Orange Jordan's corporate social responsibility strategy, stemming from its five-year corporate strategy Essentials 2020, the company seeks to play a greater role in serving different sectors and segments of the community, particularly the educational sector, to bridge the gap between academic output and the demands of the current job market, which will lead to having more qualified and productive people, who will contribute in the socioeconomic development and growth of the kingdom.