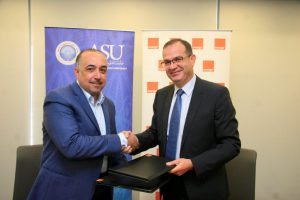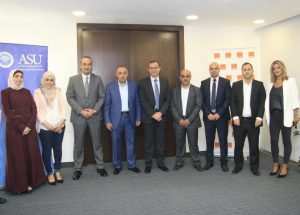 Orange Jordan recently signed an agreement with Applied Science University (ASU) to become their exclusive integrated telecom services provider. The agreement was signed at a ceremony held at the Headquarters of the company, with the attendance of the Council Vice President/ General Manager, Dr. Haitham Abu Khadija and the Chief Enterprise Officer of the Business Unit at Orange Jordan, Mr. Sami Smeirat.
Under the agreement, Orange Jordan will provide the Applied Science University with an integrated bundle of services that includes mobile lines and very high-speed internet, in order to provide a high-quality telecom system that enables students and employees to always stay connected and keep up with the digital age.
Commenting on the occasion, Chief Enterprise Officer of Orange Jordan, Mr. Sami Smeirat said: "We are very happy to sign this strategic partnership with the reputable Applied Science University, as we at Orange Jordan are always committed in being part of enhancing the quality of education given to the youth in the Kingdom, especially in this digital era that demands high-speed in performance. As the strongest provider of fast internet, we are confident that the services that we provide will make positive differences in the lives of students and will keep them always connected to all that is essential to them and to the latest technologies and developments, which is in line with our five-year corporate strategy "Essentials 2020".
ASU's Council Vice President, Abu Khadija in turn, said: "This strategic partnership with Orange Jordan is considered a true model of joint institutional work, which will enhance the cooperation in providing high-speed electronic services for university students and academics to enable them to research easily.
In line with its interest in delivering an unmatched customer experience, Orange Jordan is committed to take care of its growing customer base in the business and institutional sector, which includes government and private institutions and universities, as well as large, medium and small enterprises, by simplifying its wide array of telecom solutions and services tailored to meet their needs, which range from telecom services, to connectivity, to cloud computing and enterprise resource planning, as well as security and protection services