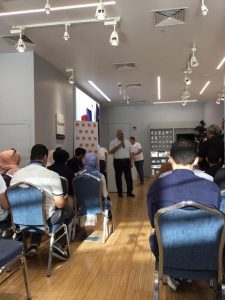 Orange Jordan recently sponsored a workshop organized by iSystem company for people with visual disabilities, with the participation of the Higher Council for the Rights of Persons with Disabilities (HCD).
During the workshop, participants were trained on using the built-in iOS features in Apple products, in addition to presenting the latest applications that will help them perform many of their daily tasks.
The sponsorship of the workshop came as a result of the special attention Orange Jordan pays to people with disabilities, placing their needs as one of its top priorities, as the company believes in the role they play in the local community and their contribution in its growth and development.
The company affirmed integrating people with disabilities in the local communities they live in, which can only be achieved through keeping them constantly connected to the people around them to run their business and realize their interests.
Orange Jordan said that it will continue supporting all activities related to facilitating the lives of its customers, to keep them connected to all that is essential to them, and seeks to bridge the digital divide between members of society, and maximizing the benefits of modern technology to the largest possible segment.