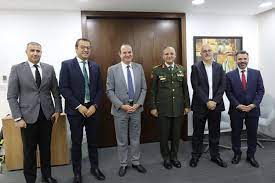 Orange Jordan and the Special Operations Forces Exhibition and Conference (SOFEX Jordan) signed an agreement under which the company will sponsor the Artificial Intelligence in Defense Technologies and Cybersecurity (AIDTSEC) conference for the second consecutive time.
The AIDTSEC 2023 conference will take place on September 4-5 at the King Hussein Bin Talal Convention Center in the Dead Sea.
The agreement was signed by Deputy CEO/ Chief Enterprise Officer at Orange Jordan, Engineer Sami Smeirat, and Vice Chairman of SOFEX, Brigadier General Engineer Ayman Al Batran, and attended by CEO of SOFEX, Ahmad Al Taweel.
The AIDTSEC conference, the leading artificial intelligence conference in the region, is held by SOFEX every two years to provide a platform for experts, innovators, and startups in artificial intelligence defense technology and cybersecurity.
Engineer Sami Smeirat said: "We are proud of the distinguished partnership between Orange and SOFEX. The conferences held by SOFEX are attended by representatives from all over the world and focus on key global topics that are essential for continuous development, such as cybersecurity and artificial intelligence. These topics are also at the core of Orange Jordan's strategy and services".
Smeirat added: "As we continue to offer the latest technologies, Orange Jordan remains committed to providing a world-class experience with added value and high quality".
For his part, Ahmad Al Taweel expressed pride in the successful partnership that has lasted for years between Orange Jordan and SOFEX, stating: "We are grateful for Orange Jordan's trust in SOFEX Jordan, and we look forward to more cooperation and joint success in the future".
The first edition of AIDSTEC was held in 2021 under the patronage of His Royal Highness Crown Prince Hussein bin Abdullah II and with the support of the Jordanian Armed Forces – the Arab Army.
To learn more, you can visit our website: www.orange.jo/en