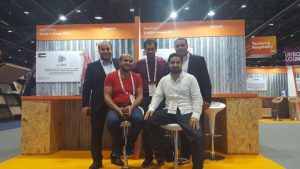 For the second consecutive year, Orange Jordan sponsored the participation of BIG Season 4 startups in GITEX Future Stars, which is within the 37th GITEX Technology Week, one of the major events for startups and entrepreneurs in the MENA region. The GITEX Future Stars took place between 8-12 October in Dubai.
GITEX Technology events included competitions on innovation and business propositions and is a great opportunity for entrepreneurs to showcase their ideas and business plans to representatives of major international companies interested in investing in startups, as well as chances to win in-kind and cash prizes worth more than AED 1.2 million, trips to Silicon Valley in the United States and providing special prospects for them.
As part of Orange Jordan's sponsorship, the company provided BIG Season 4 startups with a special booth to showcase their products and services during the exhibition, which showcased, the services of "Aumet", a startup developing the medical industrial sector through establishing a platform that acts as an intermediary between medical machine manufactures and international distributors, "Mujaz", which shares digital content (videos) through its partnerships with web content producers on the internet and influencers on social media platforms, "Lunch Box" specialized in preparing meals for school students, and "Gasable"  a mobile application which connects = Gas users with service providers.
BIG is a program that helps and supports entrepreneurs at all stages of work, in order to expand into new markets and reach more segments of customers with different interests. The program offers its services using Orange Jordan's diverse resources and through its ever expanding and spreading international network, with the support of its partners in the program and Orange Group. The participating startups are connected to Orange's international network, to enable them to reach growth acceleration and guidance programs around the world and also, give them the chance to take part in various international exhibitions to widen their network and shed light on them.
Orange Jordan continues to support startups, small and medium sized companies, contributing to the growth and success of companies and entrepreneurship in the Kingdom, in order to strengthen socioeconomic development in Jordan. In line with its five-year corporate strategy "Essentials 2020" and its corporate social responsibility plan, Orange Jordan strives to strengthen its position as a local and responsible company in the community in which it operates in, therefore, it is committed to supporting activities and events that contribute to social growth and development.