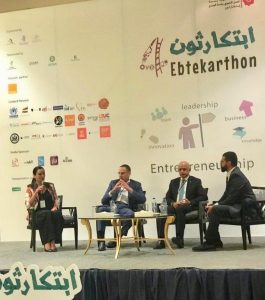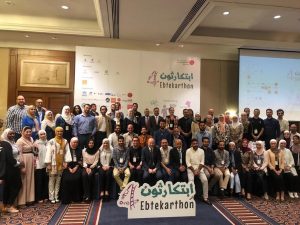 Orange Jordan stressed on the importance of the knowledge and innovation forum "Ebtikarthon", as it adds a social dimension to the start-ups and is a catalyst for innovators and talents, especially as it serves as a platform to meet with companies and experts to review the ideas of their projects and objectives.
During her participation in one of the discussion panels on the last day of the forum that was attended by the Minister of Digital Economy and Entrepreneurship, Muthanna Gharaibeh, on behalf of HRH Basma bint Talal, PR, CSR, and Corporate Communication Director at Orange Jordan, Rana Dababneh, said that Orange Jordan sponsored the activities of "Ebtikarthon" forum that is carried out by the Jordanian Hashemite Fund for Human Development (JOHUD), for the 3rd consecutive year under the patronage of HRH Princess Basma Bint Talal. The three-day forum that is part of the Princess Basma Award for Human Development and Community Service witnessed the participation of more than 100 young men and women from different governorates of the Kingdom.
Dababneh added that the forum comes in line with Orange Jordan's strategy in supporting young entrepreneurs and developing their skills, and sponsoring their ideas to develop projects that have a positive impact on their local communities, ultimately leading to Orange Jordan's goal in driving the economy and achieving sustainable development in the Kingdom.
Dababneh praised the distinguished partnership that combines Orange Jordan with JOHUD, which resulted in organizing and sponsoring many initiatives and events related to the youth category, which Orange Jordan considers as the main essence in building society and the base of its development and prosperity.
During her speech, Dababneh showcased Orange Jordan's contributions in developing local communities in different governorates around the Kingdom that are carried out through various initiatives, such as adopting the ideas of creative young entrepreneurs and providing support for their projects through its start-up accelerator program, BIG, in which one of the companies within the program "Masmoo3" participated in the forumin addition to the Women Data Centre program that Orange Jordan launched in cooperation with JOHUD, where five women from the program participated in a special session on the role of women entrepreneurs in community development.
Dababneh also showcased some results of the joint study conducted by Orange Jordan in cooperation with the German Agency for International Cooperation (GIZ) and the Information and Communications Technology Association of Jordan (int@j), which showed that start-ups based on technology, currently contribute to $168 million, directly and indirectly, or 0.5% of the total GDP. This proportion corresponds to the global percentage, except for the United States, Australia and Canada.
"Ebtikarthon" forum aims to add a social aspect to the start-ups, motivate youth talents and entrepreneurs and provide them with personal skills to develop their business, enrich their knowledge and experience in community leadership, and maximize the benefit of their entrepreneurial projects on different categories and segments of society.