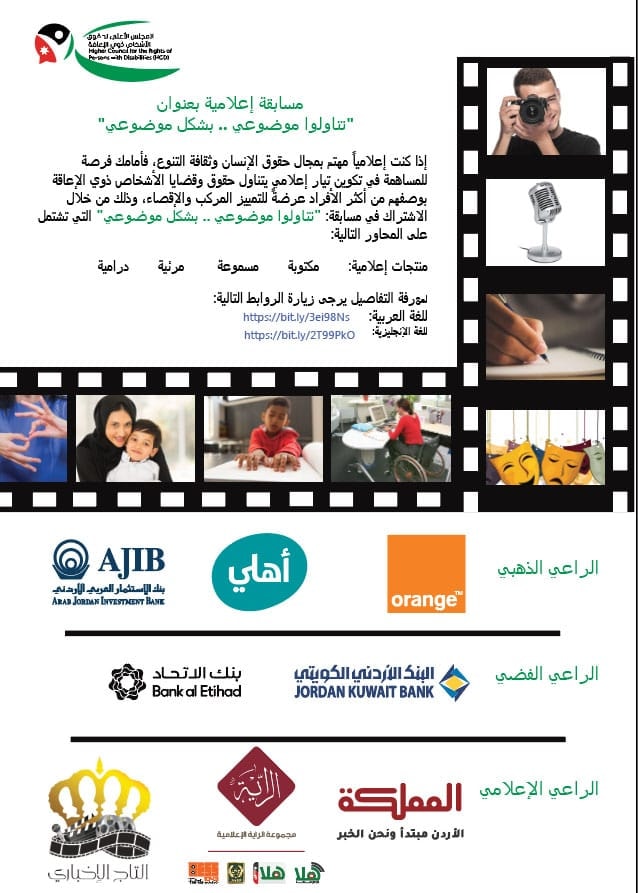 Orange Jordan announced sponsoring the competition that was launched by the Higher Council for the Rights of Persons with Disabilities, under the patronage of the Council's President, His Highness Prince Mired bin Raad, to increase awareness of the rights of persons with disabilities and motivate media representatives to address their issues from a human rights perspective, in addition, to encourage creative and media pieces that contribute to awareness regarding the rights and issues of persons with disabilities and their inclusion in society.
Deputy Chief PR, Corporate Social Responsibility and Corporate Communication Officer, Eng. Rana Al – Dababneh affirmed the importance of this competition in enhancing the positive image for the persons with disability in the Kingdom, noting that Orange Jordan is keen to sponsor the competition in addition to various awareness initiatives, due to the importance of media and educational role to contribute in changing the stereotypical perspective and empowering persons with disabilities, as part of its extended partnership with the Higher Council for the Rights of Persons with Disabilities.
Al – Dababneh also noted that digital inclusion is one of the company's priorities, to include sustainable services, solutions, and initiatives that enhance the contribution of persons with disabilities and shed the light on their achievements and active roles in society, under the company's umbrella "Differently Abled, Definitely Enabled" as part of the company's CSR strategy.
The competition includes 4-pillars; visual, audio, written media, and drama, where the participants will be evaluated by a jury of experts in the field of human rights and media to select three winners from each pillar, the first winner will receive JD 2500, while the second winner will receive JD 1,750, while the third winner will receive JD 1,000.
It is noteworthy that the winners will be announced at the beginning of next December in conjunction with the International Day of Persons with Disabilities, and those interested in participating can check the details of the competition through the link: https://bit.ly/3zhy5QT .