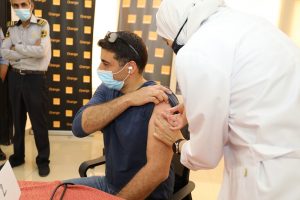 Orange Jordan announced its support for the cash prizes initiative for COVID vaccine recipients, launched by the Jordan Radio and Television Corporation (JRTV), to encourage individuals to take the vaccine to immunize all citizens, in continuation for Orange initiatives to raise awareness and support national vaccination campaigns, the health sector, and others.
The company will give 6 prizes valued at JD 500 each via Orange Money e-wallet, as part of other institutions and sectors who joined the JRTV's campaign launched during the weekly show "Yes3ed Sabahak," having a weekly draw to encourage the citizens to take the vaccine.
Deputy Chief PR, CSR, Corporate Communication Officer, Eng. Rana Al Dababneh thanked the JRTV management for launching this important initiative, stressing that Orange's support for this new campaign embodies the company's keenness, in line with its role as a responsible digital leader, to support the efforts that aim is to limit the spread of the coronavirus and protect the Kingdom from further negative consequences, concerning both individuals and sectors, stemming from its CSR strategy and in continuation for its support since the pandemic's outbreak.
The draw will be broadcast on JRTV every Friday, having the first draw on November 5th, noting that the entries of the draw should have been vaccinated in the week preceding the draw, regardless of whether it was their first or second shot.
Orange Jordan established a vaccination station dedicated for drive-thru and pedestrians, in cooperation with the National Center for Security and Crisis Management and the Ministry of Health, funded by Orange Foundation, the Group's arm for philanthropy and social responsibility, at Orange Digital Village in Abdali area, aiming to increase the number of vaccine recipients.