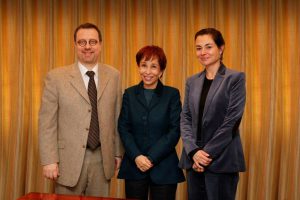 Orange Jordan and the Orange Foundation recently announced signing a new agreement with the Jordanian Hashemite Fund for Human Development (JOHUD) under which the company will launch the Women's Digital Centers Program for the first time in the Kingdom, a program established by the Orange Foundation and is running successfully in 18 countries across Africa, Europe and the Middle East.
The agreement was signed by Jérôme Hénique, the CEO of Orange Jordan, Brigitte Audy, the Executive Director of Orange Foundation and Farah Daghistani, the Executive Director of JOHUD.
Hénique said, "In accordance with the agreement, the Women's Digital Centers Program will be implemented in five community centers of JOHUD spread across the kingdom that include Al Khalidyeh, Taibeh, Madaba, and Al Hashmi Shamali and Marka centers located in Amman". He added that, "The program aims to support and empower women by enabling participants to improve their career prospects, through trainings that equip them with digital skills and competencies and teaching them how to build and promote small businesses electronically across different social media platforms. In addition, providing advice on how to prepare monthly and annual budgets and reports, which will contribute to enhancing their lives."
Hénique emphasized the importance of the long-term partnership between Orange Jordan and JOHUD, pointing out that this new agreement in cooperation with the Orange Foundation, falls in line with Orange Jordan's Corporate Social Responsibility strategy, which aims to add value to people's lives and aspirations, part of which includes reducing the digital gap by providing modern education tools for those dependent on digital education. He also stressed that Orange Jordan seeks to intensify efforts to empower women and enhance their lives through sponsoring various conferences, events and initiatives pertaining to them and aims to support the concepts of leadership, change and sustainability in their respective fields.
JOHUD's Executive Director, Farah Daghistani expressed her pride in the continuous partnership with Orange Jordan, which targets more than one domain within JOHUD's activities. Daghistani indicated that the Women's Digital Centers Program, is in line with JOHUD's main goal since its inception, which was to increase the participation of women in the development process, as women in cities and villages were found to be the main drivers in creating positive change in society.
The Jordanian Hashemite Fund for Human Development (JOHUD) has been working for 40 years to lead national development efforts, alleviate poverty and empower communities across the Kingdom, through the fifty one Princess Basma Centers for Community Development spread across different regions in the Kingdom, where they focus on the well-being and rights of vulnerable segments such as women, youth and people with disabilities.
The Orange Foundation is committed to three areas of corporate philanthropy: education, health and culture. In relation with Orange's core business, it uses digital technology to help populations in these three areas, especially young people who are struggling in school or are dropouts, women in difficulty and people with autism to help empower them so they can live better lives.
The Orange Foundation takes action to ensure that digital technology, which has become essential, is an opportunity for all. A digital solidarity foundation, it is currently active in 30 countries, with 8,000 committed employee volunteers.