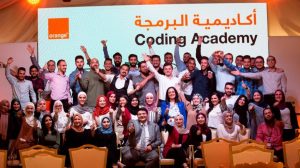 Youth are the future makers and the foundation for building societies, empowering and enabling them to unleash their potential to create a better future, which will result in leading the community towards a path of development.
Orange Jordan carried various initiatives to support them under its corporate social responsibility strategy that focuses on helping them regardless of age and educational background because it believes in their potentials.
Accordingly, Orange Jordan mobilized its various networks and expertise to find out what can be done to help youth achieve their dreams and bring them to life. The company has become a source of income that attracts employees, eventually contributing to the socio-economic development of the Kingdom to reduce unemployment and poverty rates.
The company believes that investing in education and enhancing its outcomes is a true turning point, accordingly, various initiatives were launched to deploy technology for the benefit of educational institutions such as; schools and universities to elevate the quality of education, where "Mafhoom" platform offers the national curriculum from the first grade to Tawjihi, in addition to honoring Tawjihi top students to celebrate their excellence.
Aiming to enable them to continue their academic life, Orange Jordan allocated annual scholarships for the employees' outstanding sons and daughters, in addition to bachelor and master scholarships in technology-related fields for Princess Sumaya University for Technology students, as part of a strategic partnership.
Logistically, Orange Jordan equipped many educational institutions with technological infrastructure, for example, the company renovated the conference hall at the University of Jordan and offered support for initiatives that encourage innovation such as the University of Jordan initiative, Innovate to Start, in addition to its support for the Orange Yarmouk Creative Laboratory (OYIL), and equipping Yarmouk University with telecommunication infrastructure and fast internet that serves the educational process goals, in addition to other strategic agreements with public and private universities to accomplish the same goal.
Possessing needed skills that are in line with international trends is crucial in the labor market. Therefore, Orange Jordan founded the Coding Academy, a one of as of its kind in the MENA region which embodies  "The Training for Employment" concept, where the training courses are tailored to meet the needs of the local, regional and international labor markets. The course is 6 months long and focuses on technical and interpersonal skills. As a result, 70% of the academy's first batch landed great employment opportunities and opening the doors for the second batch to join.
Innovation and creativity receive Orange Jordan's great attention, especially through the 14 Orange Digital Community Centers across the Kingdom which foster innovation and stimulate creativity with its technological equipment to become a starting point for the beneficiaries' projects.
BIG by Orange, the Startup Accelerator Program, is considered the largest space for entrepreneurs and innovators who have competed over its seasons to get the chance to take part in. so far, 37 projects participated in the program, each of them has the essential requirements of successful businesses that offer an added value to society and provide a good source of income. BIG offers startups with networking opportunities with international companies by participating in international exhibitions and conferences.
Having access to entrepreneurial opportunities and participating in them, is one of the main features of the entrepreneurship industry in the world, and it's becoming a reality through the local and global versions of Orange Social Venture Prize (OSVP), and Orange Ventures Fund Challenge, AKA MEA Seeds for startups that employ technology in advancing MENA region granting € 150,000 for each winning company.
Youths' interests and needs are always evolving and intertwined with the global developments in various aspects, whereby Orange Jordan services are harmonious with Jordanian youth DNA. Therefore, the company designed the YO platform as an integrated platform, constantly up-to-date to suit the latest youth trends for the 18 – 29 age group; including subscriptions, added values, and digital solutions to keep them connected to what matters to them, to unleash their creativity and encourage them to build their societies.