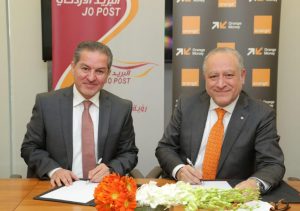 Petra Company for mobile payment services, Orange Money, signed a strategic partnership agreement with the Jordan Post, with the aim to promote usage of e-payment services via Orange Money's e-Wallet.
The agreement which was signed by Raslan Deiranieh, the Chairman of Orange Money and Dr. Khaled lahham, the Director General of the Jordan Post, in the presence of Orange Money's General Manager, Eng. Hiba Al Sharif.
Deiranieh said that this agreement is one of several strategic partnerships that Orange Money has conducted with a number of private and public institutions to ease the financial operations processed via the e-wallet,  noting that by this agreement the users of Orange Money's wallet will be able to withdraw and deposit cash via Jordan Post's offices across the Kingdom.
Deiranieh pointed out the agreement's significance in enhancing the growth and development of e-payment sector in the Kingdom, which will, in return, serve the Central Bank's mission to raise financial inclusion rate in Jordan.
He said that this collaboration is a qualitative leap in terms of expanding Orange Money services, since it will enable the company to offer specialized services to serve the needs of the local market, noting that these services are in line with international standards of financial services.
Deiranieh noted that Orange Jordan and the Jordan post are keen to develop and expand the services that save customers' time and effort, stressing that  Orange Money utilizes the latest technologies that enable users to perform fast and secure e-payment services and financial procedures such as paying bills and transferring money via an automated e-wallets system.
Lahham, Jordan post's Director General, said that this agreement falls under the company's 2017-2019 strategy, which focuses on changing the business model by renovating traditional postal services. He also noted that introducing advanced financial services won't only serve the strategic goals of the Jordan Post but will also enhance financial inclusion rates across the Kingdom by providing electronic financial services that will enable people, especially in underprivileged areas, to transfer money and pay bills.
He also noted that offering handy financial services that are processed via the e-wallet such as: cash collection, instant money transfer, paying bills through the Jordan Post offices, POS devices and soon via ATM machines, is considered an added value to the services offered by the post and contributes to the development of the financial technology services sector (Fintech).
Al Sharif stressed that the company's keenness to indulge in new partnerships that will benefit costumers goes in line with Orange Group's strategy for the Middle East and Africa to automate payment services by launching easy to use and secure e-Wallets and issuing the VISA cards that can be used locally and internationally.
She added that offering these services, also, goes in line with the company's mission to support  digital transformation and financial inclusion across the Kingdom,  help and impact different economic sectors positively and promote sustainable and inclusive development.
Orange Jordan officially launched Orange Money service this month, after acquiring the e-payment license from the Central Bank and fulfilling all official requirements stipulated in Jordanian legislature.