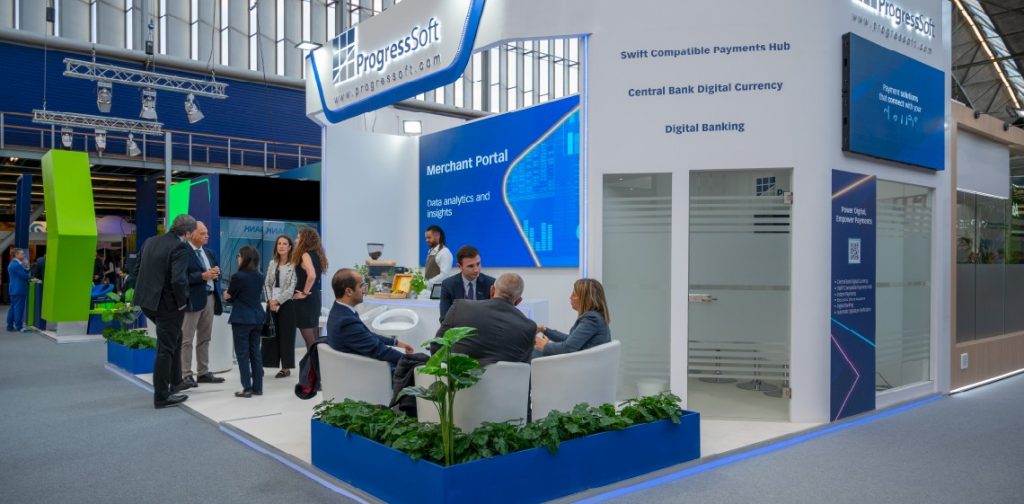 ProgressSoft concludes participation at Sibos which took place from 10 – 13 October in Amsterdam.
Hundreds of financial industry leaders gathered in-person for the exciting conference program which focused on embracing the evolving digital landscape to succeed in the face of uncertain times: from new regulation to thriving in the post-Covid world.
As annual Sibos partner, ProgressSoft was there to showcase its latest payment solutions and advancements to the financial industry, this year with a focus on a special milestone: the designation of ProgressSoft's Payments Hub with a SWIFT Compatible Application Payments Label 2022.
The label was awarded to ProgressSoft's Payments Hub only weeks before the commencement of the event and is evidence that the solution is compliant with SWIFT requirements including ISO 20022 and Cross-Border Payments and Reporting Plus (CBPR+) guidelines and beyond.
As one of only four solutions worldwide awarded with this designation to date, the solution inevitably gained massive attention from banks interested in not only ensuring their full compatibility with SWIFT requirements but benefiting from the sophisticated functionalities of the solution that serve financial and non-financial messages and streamline cross-border payments.
ProgressSoft's Director of Product Management, Rawan Soudah, also took the Sibos Exhibitor Stage to guide attendees on the challenges, features and approaches behind CBPR+ compliance and successful ISO 20022 migration, and how it can be achieved using a reliable and resilient foundation.
"This is not an IT project," stated Ms. Soudah, "it is a transition that impacts and involves every department within a bank and everybody in the payment chain, so identifying the concerned domains from the start is crucial to identify the right solution and approach."
ProgressSoft is thrilled to have reunited with financial industry leaders and showcased its Payments Hub and Central Bank Digital Currency solutions among other vital innovations at Sibos 2022.