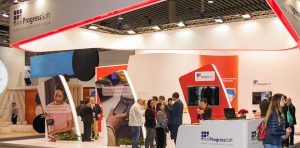 ProgressSoft, a world leading provider of real-time payment solutions concluded a highly promising and successful inaugural participation at the Mobile World Congress 2017 in Barcelona. Following exponential growth, ProgressSoft has moved into the mobile industry, presenting its latest suite of Mobile Payment products in the largest mobile industry event around the world.
The Mobile World Congress (MWC) in Barcelona attracted over 110,000 attendees from 208 countries and territories to view the more than 2,300 exhibitors offering the latest in cutting edge mobile technology.
Exhibiting in this international event, ProgressSoft received a great amount of attention from delegates and exhibitors from countries all over the world including the United States, Latin America, Africa, Europe, the Far and the Middle East including the GCC countries, who were all impressed by the advancements ProgressSoft has made in payment solutions, enabling real-time and mobile payments.
ProgressSoft's stand was visited by high profile dignitaries including the Governor of the Central Bank of Oman, H.E. Mr. Hamood Al Zadjali, who by his visit alone affirmed the long-standing support given to the company by way of the partnership between ProgressSoft and the Central Bank of Oman. ProgressSoft has worked with the Central Bank of Oman on a number of nationwide business endeavors including the implementation of the countrywide real-time Electronic Check Clearing (PS-ECC) system, Electronic Bill Presentment and Payment (PS-EBPP), Automated Clearing House (PS-ACH), Mandate Management System, Mobile Payment Switching & Clearing (PS-mpClear) and Wage Protection System (PS-WPS), which have made the clearing and settlement of payments more convenient and efficient there.
The Governor of the Central Bank of Djibouti, H.E. Mr. Ahmed Osman, had an engaging and fruitful visit to ProgressSoft's exhibition stand. His Excellency Mr. Osman was delighted to discover the Mobile Payment suite ProgressSoft offers and to view a live demonstration of the solutions. The Governor is familiar with ProgressSoft's solutions having discussed them before, and his visit to the stand affirmed the importance of the company's integrated solutions and the benefits that they offer on a national level.
Representing the Ministry of Information and Communications Technology (ICT) in Jordan, H.E. Ms. Majd Shweikeh, the Minister of ICT, attended the event to support Jordanian companies exhibiting their solutions at MWC. Her Excellency was significantly impressed and proud to witness the strong presence of Jordanian talent on display at ProgressSoft's booth.
During MWC, ProgressSoft demonstrated its advanced countrywide Mobile Payment Solution (PS-mPay), which facilitates domestic and cross-border remittances for both banked and un-banked customers. This solution offers payment services that include Person-to-Person, Person-to-Business and Person-to-Government Money Transfers, in addition to Bill Payment, Direct Credits and Point-of-Sale Payments. PS-mPay was demonstrated in a live setup during MWC 2017, using a similar environment to that which was implemented in Egypt with the cooperation with e-finance, where ProgressSoft customized the solution to satisfy the needs of the Egyptian market. ProgressSoft's Mobile Payment services that are being used by Egypt now have grown considerably to include bill payments, university tuition fees, salary and pension payments, as well as shopping at several malls and shopping centers.
Mr. Michael Wakileh, the CEO of ProgressSoft, expressed his delight at the exposure garnered at the event. "In MWC 2017 we are no more presenting solutions, we are here to convey the future of payments through the mobile to people, businesses, mobile operators and banks.  We will unleash to the world a new era with an unprecedented payment ecosystem. "
ProgressSoft also demonstrated its Mobile Payment Switching & Clearing solution (PS-mpClear) to MWC attendees, which is responsible for processing inter-bank and inter-processor mobile payment transactions. PS-mpClear supports processing and switching mobile financial and non-financial transactions on an STP basis and routing messages between multiple mobile payment service providers, ensuring interoperability.
Visitors from FinTech institutions including banks, central banks, mobile network operators, and software development companies were impressed by the cutting edge technology ProgressSoft offers, enabling countrywide real-time mobile payments.