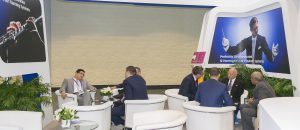 ProgressSoft, the leading global provider of real-time payment solutions is participating in Sibos 2017 in Toronto, Canada. The event is taking place at the Metro Toronto Convention Centre beginning October 16th, 2017, and continuing until October 19th, 2017.
Fulfilling this year's Sibos theme within the banking stream, "Building for the Future," ProgressSoft is introducing its national payments platform, which includes innovative solutions for Central Banks and Commercial Banks in the fields of Mobile Payments, Real-time Retail Payment Systems (RPS), Automatic Clearing House (ACH), Real-Time Gross Settlement (RTGS), Digital Currency, Electronic Check Clearing, and Automated Signature Management & Verification.
ProgressSoft has developed a Central Bank Digital Currency (CBDC) which unlike other current digital currencies, can be controlled and monitored by the central bank, eliminating the risk of money laundering and the financing of terrorism, as well as giving better oversight and security, which ultimately enhances the GDP of the country. Digital currencies replace the costly production, printing, storing and destruction of paper money, as well as its transportation and the risk involved with it.
The CEO of ProgressSoft, Mr. Michael Wakileh, stated that "At Sibos 2017, we are no more presenting solutions; we are conveying the Future of Payments by presenting ProgressSoft's Digital Currency, Blockchain and Distributed Ledger technology as part of a total Payments, Clearing and Settlement ecosystem to Central Banks and banking bodies around the globe. We are thrilled to unleash an unprecedented payments era to the world."