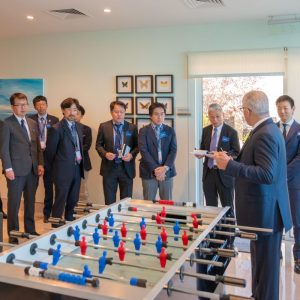 ProgressSoft is honored to open its doors and present its company to a prestigious Japanese delegation, facilitated by the collaborative efforts of JETRO – Japan External Trade Organization, Crown Prince Foundation, and Jordan Strategy Forum – منتدى الاستراتيجيات الأردني.
The visit sparked inspiring exchanges, opening new paths of cooperation and fostering stronger ties with Japan in the realm of innovation.
Our heartfelt appreciation to all those we had the pleasure of meeting today, as well as to JETRO, the Crown Prince Foundation, and the Jordan Strategy Forum for their impeccable coordination.