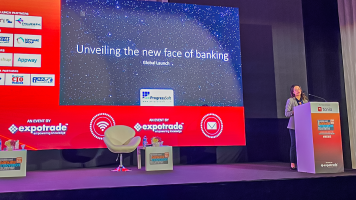 ProgressSoft, a leading global payment solutions provider since 1989, unveiled a new Digital Banking Platform in a global launch that has been sparking curiosity among bankers worldwide.
The highly anticipated global launch was announced at the Middle East Banking Innovation Summit, providing hundreds of senior banking leaders with an exclusive first look at a transformative platform that provides banks with the ability to digitally onboard customers, provision online financial services for individuals and corporates, and unify customer data via one centralized platform.
"We are changing the way your customers engage with you, the speed in which you introduce new services," announced ProgressSoft's Business Development Officer, Carole Elias, on main stage "and most importantly, you get to control it all in real-time, from different branches and locations, at any time, on one platform."
ProgressSoft's Digital Banking Platform, which was designed and developed according to the direct insights of hundreds of everyday customers, provides bank customers with holistic and personal financial experiences through intuitive technologies that recommend goods and services nearby, and prompt profitable and cross-selling next actions.
The platform's integration capabilities and microservices architecture also gained massive traction for its ability to seamlessly connect to back-end and third-party systems, automatically comply with regulations and sanctions lists, and offer a centralized, yet interoperable platform.
"We are immensely proud of this grand achievement for the banking industry." noted ProgressSoft's Chief Executive Officer, Michael Wakileh, "Now is the time for banks to reinvent the way they engage with their customers and become an integral part of their financial and non-financial lives, and here is the platform to achieve it."