CSC Jordan chooses HPE Superdome Flex Servers for maximum scalability and security
Leading Jordanian finance technology solutions provider leverages HPE Superdome Flex's security and scalability capabilities to ensure the availability and integrity of its services and provide quality customers experience.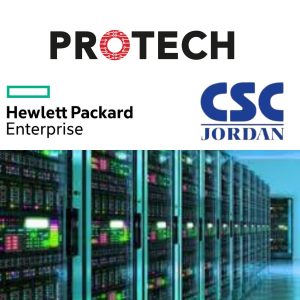 PROTECH today announced that CSC Jordan, a leading financial services company in Jordan selected HPE Superdome Flex with HPE Primera to ensure security, compliance, and operational continuity of its services. The HPE solution will power CSC Jordan's core system, providing a single point of management and monitoring, self-optimizing system operations as well as 100% data availability guarantee.
Headquartered in Amman, CSC Jordan offers highly performant and reliable electronic payment services for financial institutions and retailers, as well as ATM management solutions. The services include processing and authorizing financial transactions, as well as connecting ATMs and point of sale (POS) networks, along with managing and organizing clearing and settlement procedures for financial operations.
CSC Jordan's main objective when selecting a new solution for their mission-critical server was to guarantee 24/7 availability for their customers. Another key criterion for the new server solution was that it would be compliant with regulations and the requirements of international payment processing companies such as Visa, Mastercard and AMEX as well as local card companies like Network International (NI).
"The services CSC Jordan delivers are vital to our customers' financial operations; therefore, it is crucial for us to be able to ensure the security and integrity of our services," said Naseem Almasri, Infrastructure and Security Manager at CSC Jordan. "The HPE Superdome Flex solution provided by PROTECH delivers key data and security features, that are essential for protecting our applications and databases, while offering high scalability. As a business that is constantly changing and growing, this gives us the peace of mind and the room to focus on our customers' needs by creating new and more advanced services."
"As one of the leading finance technology services providers in Jordan, CSC Jordan has to comply with the regulations set by the Central Bank of Jordan, which requires the use of the most secure hardware and software," said Essa Al Athamneh Pre-sales Infrastructure solutions Manager, PROTECH. "Finding the right solution when faced with such critical and often extensive regulations can be a challenge for companies and when CSC Jordan was looking into a new server system, we were confident that we could provide the right level of security, compliance and scalability they needed."
"Having worked with financial service providers and institutes across the world, our experts have a deep understanding for the complex regulations and technical challenges that organisations in the industry face", said Mohammed Khater, Manager for Gulf & levant, HPE. "From the beginning, we worked closely with CSC Jordan and PROTECH to identify the optimal solution that would provide them with flexibility, performance, and reliability. With HPE Superdome Flex CSC Jordan has a highly robust server architecture that allows them to start small and grow at their own pace."
PROTECH is the first partner in Jordan to implement HPE Superdome Flex. With the deployment for CSC, one of its most strategic customers,
the HPE Gold partner is leading the way in the deployment of this powerful technology in the country. Providing critical insights and supporting CSC Jordan throughout the solution assessment and implementation process, PROTECH enabled a smooth deployment and ensured great user experience.
With its powerful performance, security, and compliance features, the HPE Superdome Flex solution is a reliable and secure choice that will help CSC Jordan to continue to provide the highest quality services to its customers. Together with HPE PROTECH is looking forward to continuing to support CSC Jordan on their journey.
About CSC-Jordan
CSC Jordan, is a new leading acquirer in Jordan that looks at providing the best and latest technological solutions across all forms of electronic payments, as well as our ATM management services. CSC services provide banks, financial institutions, retailers, companies a road to success by offering them innovative solutions defined by their flexibility and security. CSC services include processing and authorizing financial transactions, as well as connecting ATMs and point of sale (POS) networks, along with managing and organizing clearing and settlement procedures for financial operations. In addition, CSC is a payment services provider that exclusively issues all types of payment cards depending on their client's needs. CSC also owns and provides the Islamic Visa credit card – Arabex.
About PROTECH
PROTECH is Gold HPE Partner Ready Solution Provider which specialises in providing IT solution. Founded in 2004 to deliver the most innovated solutions that manage and protect clients' business data, systems, and environment.
About Hewlett Packard Enterprise
Hewlett Packard Enterprise (NYSE: HPE) is the global edge-to-cloud company that helps organizations accelerate outcomes by unlocking value from all their data, everywhere. Built on decades of reimagining the future and innovating to advance the way people live and work, HPE delivers unique, open and intelligent technology solutions as a service. With offerings spanning Cloud Services, Compute, High Performance Computing & AI, Intelligent Edge, Software, and Storage, HPE provides a consistent experience across all clouds and edges, helping customers develop new business models, engage in new ways, and increase operational performance. For more information, visit: www.hpe.com