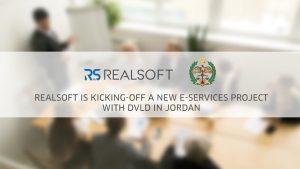 "RealSoft Advanced Applications is glad to announce kicking-off the e-Services development and Implementation project for Drivers & Vehicles License Department (DVLD) on (12/Jan/2021 ).
The project is constituted by (32 e-Service, 2 supporting services, and 8 e-applications) with 29 stakeholders, it has been initiated to support Jordan e-Government Program vision to improve the public services by:
Reducing applicant's time to access and deliver the service
Simplifying processes and procedures necessary to render the service
Improving the quality, cost, accessibility, and speed of delivering the service
Kick-off meeting has been attended by H.E. Ahmad Hanandeh, the minister of Digital Economy and Entrepreneurship and H.E. Brigadier Rami Dabbas General Director of the Driver and Vehicle Licensing Department, in which they assured the high importance of this project in the digital transformation programs, which will help to facilitate e-services for citizens effortlessly.
RealSoft is delighted to extend its successful journey in supporting Jordan e-Government Program to achieve digital transformation at all stages and providing a clear way to facilitate business in a balanced way to achieve the strategic objectives."