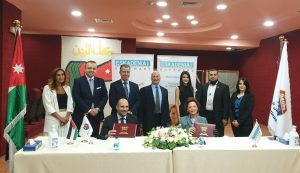 ESKADENIA Software, a leading provider of best-in-class business systems that accelerate digital transformation, is pleased to announce that Sands National Academy (SNA), a private school located in Amman, Jordan, has selected ESKADENIA Software to enhance their digitalization process.
ESKADENIA Software will empower Sands National Academy with ESKA® Schools, a state-of-the-art School Management Software. ESKA Schools is part of ESKA Academia, a software suite made up of educational and ERP software systems for the management of educational institutions. The system provides a wide-range of school management platforms equipped with a comprehensive set of functionalities to cater to all your school needs. It is a fully digitalized system that facilitates the educational process by optimizing all strenuous administrative tasks to help focus on providing the best educational services that students well deserve.
The ESKA Schools' implementation for SNA includes a student information system for managing admissions, registration, fees & tuitions, timetable, certification, student health services, student activities, incidents, attendance, and rewards. ESKA Schools' learning management system will handle learning materials, assignments, online exams, and communications. The project also includes ESKA School's library manager, parents and alumni portals, and parents' mobile app.
Besides ESKA Schools, ESKADENIA Software will provide Sands National Academy with a range of cutting-edge back-office systems integrated with ESKA Schools as part of the ESKA Academia education suite. These systems are ESKA® Financial, ESKA® HR, ESKA® SCM, and ESKA PoS (Point of Sale).
"The new management at SANDS is committed to provide the latest technologies for its students which would not only enrich the educational experience, but would also facilitate interactions with parents. In that context, we are delighted to sign this mandate with ESKADENIA whch represents an important milestone for SANDS " stated Jameel Anz , Chairman of SANDS National School .
Both ESKADENIA Software and Sands National Academy have a strong belief in the importance of digital transformation and using technology to automate all processes. By having fully automated management systems you can ensure quicker and more accurate business lifecycles, in addition to increased productivity, improved quality, reduced workload, and enhanced communications.
"We are pleased to be the partner of choice for Sands National Academy. ESKADENIA Software's advanced systems features will fully support SNA`s digital transformation process by employing technology to assist their processes and enhance communications between teachers, students, and parents. In addition to automating all their management and financial operations" stated Doha Abdelkhaleq, Managing Partner & Co-Founder at ESKADENIA Software.