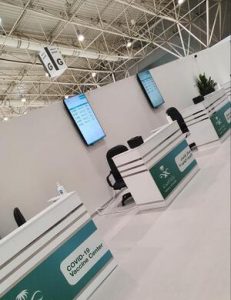 The Saudi Ministry of Health started the coronavirus vaccination campaign today, Thursday 17 December 2020, through a collaboration with Elm, the vaccination centers have been powered with SEDCO advanced queue management system, aiming to better manage the citizen flow to avoid waiting in queues.
People can book online appointments in advance to avoid crowds and maintain social distancing. Alternatively, they can get a queue ticket from the reception desk inside the centers. Each section has four rooms supervised by a central nurse, who calls forward the next citizen according to the loads of rooms.
The digital screens- furnished by SEDCO-keep people informed with the queue info as well as the latest health tips until they're called forward to receive the vaccine.
For a more convenient journey, the system matches the room color to the floor signage, aiming to guide citizens and residents to the right room. After receiving the vaccine, they wait in the recovery area for 20 minutes, until the queuing system calls the nurse to check if any symptoms appeared due to the vaccine.
Mohammad Zohdi, professional service manager in SEDCO commented, "Our system facilitates the vaccination process to ensure a safer experience for Saudi citizens and residents. The branch manager feature in the queuing system plays an essential role in offering a seamless citizen flow."
''We are glad to furnish the Vaccination Center in Riyadh today with our advanced queue management system, and soon to be introduced in other cities across the kingdom including Jeddah, Dammam, Asir, and Al Madina Al Munawara," he added.
Saudi Arabia's Minister of Health, Dr. Tawfiq al-Rabiah, was the first to receive the coronavirus vaccine today, while more than 150,000 people have already signed up to receive the COVID-19 vaccine since the Ministry of Health opened registration on Tuesday.
Vaccination centers were made available to citizens and residents across the kingdom, who will receive the vaccine free of charge.