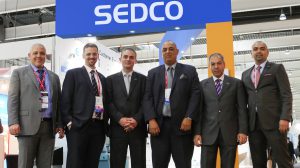 In line with its vision to provide innovative customer experience management solutions to businesses worldwide, SEDCO has introduced its smart branch concept in the Mobile World Congress (MWC) 2017, the biggest global event for mobile technology, held from 27 February – 2 March in Barcelona, Spain.
Visitors from telecom and other industries checked out a live demo of smart branch concept which contains various journey scenarios to cater for the different customers' behaviors. This begins with a classical journey, utilizing smart solutions including mobile application, queueing, scent and temperature monitor, digital signage and omni-channel feedback, with alternative channels that can be installed in busy locations, including self service kiosks, self service shops and virtual service machines, where a remote agent is available via video call to provide services and assistance 24/7.
SEDCO also introduced a 3-in-1 customer screen solution which reflects exceptional brand image and allows businesses to promote their products, while speeding up customers' transactions, and getting customer feedback.
"SEDCO is always committed to take a glimpse into the future and come up with innovative solutions beyond businesses' expectations, and that is the whole point of the smart branch experience, to ensure convenient journey while making your customers happy," stated Majdi Al Beit Shawish, CEO at SEDCO.
"We are delighted to provide Omni-channel marketing engine that allows businesses to promote targeted advertisements to different customer segments across all of their interaction touchpoints. This includes mobile app, SMS, printed ticket, kiosk screen, customer feedback device, customer screen, digital signage, and social media," he added.