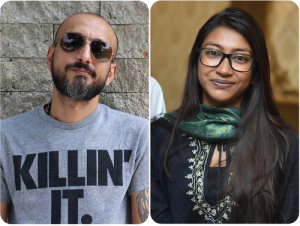 Pakistan-based smart farming solutions provider secures pre-seed funding from BRINC venture capital and accelerator firm as a participant of BRINC's Hardware & IoT Acceleration Program. The Startup will utilize the fresh capital to advance its product development and roll-out the first generation of their IoT based intelligent system. They aim to engage in a powerful marketing campaign to spread awareness on the benefits of digital transformation in agriculture.
Founded in 2017 by Nabeel Yousuf and Priya Osanna Smith, who have over a decade of farming experience, Radical Growth Solutions makes easy-to-use hardware, software, and mobile apps for digital agriculture. The solution leverages technology to help farmers make data driven decisions and understand nature better, by removing guesswork from irrigation to determine precisely how much water each plant needs and deliver exactly that, reducing operational costs and increasing crop yield.
Since its establishment, Radical Growth Solutions has been bootstrapped and was fully invested in its product development. In 2019, the startup joined HASSAD Agritech Accelerator in their first cohort program, where the startup investment readiness and growth potential were improved, and its business foundations were reinforced. The startups then joined BRINC's Hardware & IoT Acceleration Program in 2020, where they interacted with more industry professionals who helped guide the product development journey from concept to reality. Last month, Radical Growth Solutions participated in BRINC's 14th Demo Day presenting to more than 300 investors, being the only Agritech startup in the cohort.
"We are thrilled to partner with BRINC and HASSAD, and we can see the value each added to our journey so far. The continuous backing we received from both accelerators helped us restructure our thoughts and ideas, understand the process, and prepare for our journey, avoiding obvious pitfalls that may occur due to a lack of guidance and support." said Nabeel Yousuf, co-founder of Radical Growth Solutions.
Farah Hijjawi, HASSAD's investment manager emphasized "Radical Growth is an innovative solution that improves farmers' lives by enhancing their grow and reducing costs and resources used. We have no doubt that the company will be a game changer in the agricultural space, and will lead the change necessary in introducing tech-solutions and digitizing the sector, especially at the farmers' level." Ms. Hijjawi also highlighted "the alliances that the company is building along with the fresh funds it received will help boost its system development, and will accelerate its commercialization and go-to-market plans."
"Innovation has always been the protagonist of the great revolutions in the agricultural sector. Agritech has also played a vital role in maintaining sustainability and food security around the world. On the cutting edge of agritech innovations sits Radical Growth Technologies, a Brinc portfolio startup that developed an irrigation monitoring solution that contributes vastly to transforming farming into the digital age and introducing farmers to improved resource management, preventing guess work, reducing costs and increasing efficiency, leading to a better yield. As part of our 6th cohort game changers, we are proud of the significant progress Radical Growth has achieved over the 3 month accelerator program and we foresee their technology scaling to multiple regions and supporting farmers around the globe." Fatima Tammam – Associate Program Manager, Brinc MENA