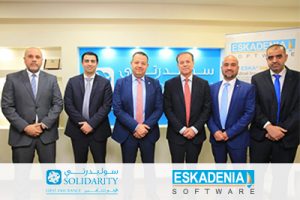 ESKADENIA Software, the leading Jordanian-based provider of software products & technologies, has been selected as the digital provider of choice for Solidarity – First Insurance Company, an insurance industry market leader in Jordan.  ESKADENIA`s insurtech software will assist Solidarity in its digital transformation to lead in an environment of rapid changes in the insurance and IT sectors.
ESKADENIA Software will provide Solidarity with a wide range of comprehensive software products, including an insurance management suite, consisting of General, Life and Medical insurance systems. Solidarity will also deploy ESKA® Insures' Takaful System, Reinsurance Portal, Approval & Notification and Notification Scheduler Systems.
Solidarity will, in addition to the Core Insurance Systems, deploy a range of sales channel products to reach a wider range of customers. These systems include the Customer Portal, Agent Portal and Mobile Application.
In addition to the insurance systems, ESKADENIA will supply Solidarity with a range of tightly integrated back office systems to ensure a highly efficient insurance lifecycle through ESKA Financial, Procurement & Inventory Management, Human Resources, Workflow and Document Management System. Furthermore, ESKA Analytics and ESKA Report Builder will provide Solidarity with the relevant and accurate information needed for swift decision-making; ESKA Customers Relationship Management, for sales automation and better customer service; ESKA Audit Trail and ESKA Logging for enhanced system security.
"We are very proud to be the partner of choice of Solidarity First Insurance Company in their state of the art digital transformation project. We are sure that the very advanced and comprehensive ESKADENIA Insurance Technology Software products will fulfill the needs and aspiration of Solidarity to strengthen its position as one of the most important Insurance market leaders in Jordan." Stated Nael Salah, Managing Director of ESKADENIA Software.
"I would like to thank ESKADENIA's development team for its hard and committed work to ensure a custom-built, aesthetically pleasing, and response platform to serve the project's partners and beneficiaries." Stated Ala`a Abdel-Jawad, CEO of Solidarity- First Insurance.