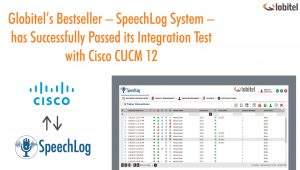 Globitel announces that its bestselling product, SpeechLog 7.6, has successfully completed and passed with flying colors the integration test with Cisco CUCM (Cisco Unified Communications Manager) 12.
About the Bestseller – SpeechLog 7.6
SpeechLog is a comprehensive call recording and a quality monitoring solution that supports any telephony environment, including traditional TDM and VoIP.
SpeechLog records incoming and outgoing calls upon the enterprise's configuration; it can record every outgoing and incoming call, or random picks for quality assessments and analysis.
And a part of Globitel's portfolio for over 20 years, SpeechLog has become one of our bestselling solutions and has helped thousands of call centers achieve their goals.
Operate – Capture – Learn
SpeechLog runs on three conceptual factors; Operate, Capture and Learn. It gives the customer care operation a sleek functionality, with configurable call recording in order to analyze and train agents on delivering the best services.
Tough but Rewarding Journey
Following diligent and extensive work by the dedicated customer care team at Globitel, SpeechLog 7.6 was tested thoroughly in compliance with Cisco CUCM 12 criteria and was found to have passed the integration of the two products.
The integration's success is indicative of SpeechLog's capabilities as an advanced call recording solution and its suitability to become a contact center's reliable and sturdy crutch.
Mr. Fadi Qutaishat, VP at Globitel on the news,
"SpeechLog is one of the first products we developed when Globitel was first founded 22 years ago. And since then it underwent transformations to cope with the changing market needs of a call recording system."
Qutaishat continued,
"From basic call recording software in 1996 to present day, SpeechLog now covers all contact points with customers, including Quality management, Speech Analytics, Retail Shops, Back Office, Voice Authentication, and Social Media. The original SpeechLog remains the foundation of a strong and capable suite of software solutions suited for ambitious contact centers with a combination of responsibilities to provide the best customer service experience."