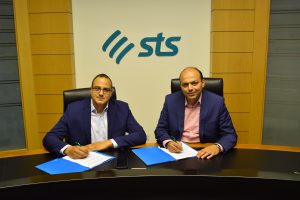 STS, the leading company in providing complete all-round Information Technology (IT) solutions in Jordan and the region, has announced receiving the PCI Data Security Standard (PCI DSS) Compliance Certification and Attestation of Compliance. The PCI DSS accreditation was granted by the PCI Security Standards Council (PCI SSC), to further demonstrate STS' illustrious track record of continuous success.
STS was granted the accreditation in recognition of its strict adherence to guidelines that safeguard the data of the STS Cloud Clients by utilizing added reliability and security measures; ensuring secure Cloud Computing Solutions and Services to its clients and customers around the world.
By achieving this recognition, STS cloud becomes the first certified, secure, and trusted cloud provider in Jordan; offering unique hybrid cloud solutions that enable organizations to utilize the local cloud services with around-the-clock onsite certified support resources.
This comprehensive standard leverages STS cloud infrastructure solution as an optimal choice for banks and financial institutions and other types of businesses by reducing the risk of data breaches; enabling them to host their applications in a secure hybrid cloud infrastructure without having any security concerns.
The prestigious distinction was presented to the STS Cloud Director Mohammad Adnan, who expressed his utmost pride in claiming it while also emphasizing the importance of the PCI Security Standard in protecting their clients and the privacy of their data.
"The accomplishment ensures our leading market standing and helps facilitate the delivery of high quality, secure, trusted and efficient Cloud Computing Solutions and Services to our clients and their customers; ensuring the protection of our client's security interests while elevating data security by maintaining the highest standards"
"This unique achievement serves as a testament to the continuous efforts that STS has invested in ensuring the highest standards of security and privacy by providing Cloud Computing Solutions and Services that adhere to the highest standards of trust and service quality as part of the STS strategy."
Furthermore, Adnan claimed that such accreditation will help expand STS' client base as it will smoothen the transition to Cloud-based solutions for clients of the IT industry, claiming that "the distinction also reflects the measures that STS has taken to ensure the security of its data, and indicates our strong interest in further elevating payment data security, as the PCI DSS will ease the process of clients shifting to Cloud based Solutions creating a golden opportunity for businesses and financial institutions in particular to adopt the Infrastructure as a Service offerings by the STS Cloud."
Finally, Adnan also touched on the importance of the being certified in gaining more credibility in the market as a whole; opening up new prospects and horizons for their cloud-based solutions and services.
In turn, Dr. Ramzi Al Sunna, Managing Director of Randomstorm in the Middle East, and the co-founder of Scanwave who presented the STS Cloud Director the certificate in the STS Head Quarters, stated, "We are pleased to have helped the STS Cloud attain this accreditation, which reaffirms STS' commitment to delivering secure Cloud Computing Solutions and Services to its clients and their customers, and emphasizes its ongoing efforts to propel the development of digital transformation in Jordan and the region."