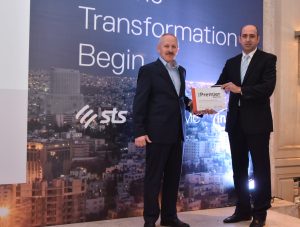 STS, the region's leading Information Technology (IT) Solutions provider, has proudly announced the attainment of the first and only Dell EMC Premier Partnership in LEVANT. The milestone continues to prove STS' leading pole position in the industry and signifies the company's dedication and commitment towards its partners as they become the only company in LEVANT to attain this prestigious status.
STS, with a cohort of immaculate IT experts, achieved the well-coveted Dell EMC Premier Partner status by completing all necessary certifications and achieving competency specialization requirements as requested and expected from Dell's PartnerDirect Program.
This level of partnership endorses and attests the exquisite service and superior execution which clients have grown to expect from STS. Striving to continue along the strategies of the past, this partnership will enable STS to offer more competitive prices; easing the path for businesses to adopt the latest technologies and further grow their operations.
Collaborating with Dell EMC, STS made the announcement in a recently held event in which Dell Country Manager Mr. Mohammed Helal presented STS with the partnership certificate; stating: "This partnership with STS is synonymous with the company's history of achievements and will be of great benefit to both parties. STS was our first partner in Jordan and has since kept growing the business successfully, differentiating itself with the unique value it provides for its clients.  At Dell EMC we are delighted about this strategic partnership and are certain that STS will continue to deliver on the high standard they have set for themselves and the regional IT market."
STS Chief Operations Officer Mr. Husam Katkhoda, proudly stated: "We are delighted and proud to achieve such a prestigious recognition. Being the first and longest standing partner for Dell EMC in Jordan fills us with pride, and we remain optimistically confident in our ability to maintain the high standard that we have set along the years as we continuously strive to keep this relationship at the highest of levels for the foreseeable future."
The announcement was made during one of STS' periodic technology events, which was coordinated with Dell EMC in the presence of more than 150 Information Technology experts from different sectors.