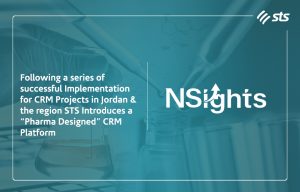 STS, the leading provider of digital transformation, information systems, and integrated Information and Communication Technologies (ICT) solutions in Jordan and the region; has announced the introduction of its innovative CRM platform, specifically built to address the pharmaceutical industry, under the name of "Nsights".
The introduction of "Nsights" falls under STS's strategy to offer innovative industry-specific solutions, and its efforts towards accelerating digital transformation across various industries. STS presented a comprehensive l CRM dedicated to the pharma industry to positively impact the customer experience and upgrade the work-flow process. It is worth mentioning that the CRM solutions offered by STS has a proven success record with a number of well-known companies in Jordan and the region.
This innovative CRM confidently differentiates itself from similar platforms by owning the specialization in the pharmaceutical industry and clearly understanding their processes and specific needs, resulting in increasing efficiency and sales outcomes along the way.
The Nsights CRM targets the pharmaceutical organizations' structure as a whole, starting from the top management, sales and marketing teams for market insights and tracked sales planning, all the way to the logistics officers and distribution channels
Moreover, Nsights features a comprehensive thus extremely secured CRM, that allows its users to access their customers' data base, get updates on the medicinal stocks, receive real-time feedback from doctors, generate detailed reports, track representatives' sales plans and coverage territories, in addition to all-around access to key information and updates about the products, latest sales plans and distribution channels.
Commenting on the launch, Ibrahim Zeine, Manager, Sales Operations at STS said: " As a Jordanian establishment, we have always proved our high competency in introducing cutting-edge digital transformation solutions since our inception. The introduction of Nsights confirms our strategy to further develop our digital conversion offerings, making them smartly adoptable and a remarkable game changer. Today we pride ourselves in transmuting the traditional pharmaceutical sales process and transforming it into a vital tool that will shift the medicinal institutions' positioning in many aspects."
This addition to the company's offerings confirms on STS's commitment in providing innovative solutions and easing this fast-paced transformation while accumulating business knowledge and technical up-to- date experience