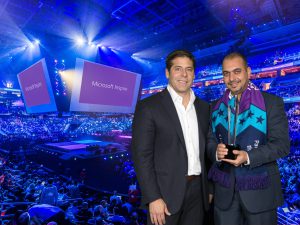 STS today announced it has won the 2017 Microsoft Country Partner of the Year 2017 Award. The company was honored among a global field of top Microsoft partners for demonstrating excellence in innovation and implementation of customer solutions based on Microsoft technology.
Upon receiving the award, STS' Product Director- Microsoft Licensing and Training Haytham Elayyan proudly claimed: "Being named Microsoft's top partner in Jordan is a proud distinction that reaffirms our standing as the trusted choice for partners and customers alike for the past 28 years. Having won the award last year, it fills us with great satisfaction to win it again, as it indicates the strength of our STS team, and our determination to deliver the most value to our customers."
Alian continued by saying: "At STS, we are committed to adopting the highest professional and quality standards, and continuously strive to effectively cater to our clients' evolving needs. Receiving this prestigious accolade is further testament to our advanced market position as a pioneering regional company."
Awards were presented in several categories, with winners chosen from a set of more than 2,800 entrants from 115 countries worldwide. STS was recognized for providing outstanding solutions and services in Jordan
The Microsoft Country Partner of the Year Awards honor partners at the country level that have demonstrated business excellence in delivering Microsoft solutions to multiple customers over the past year. This award recognizes STS as succeeding in effective engagement with its local Microsoft office while showcasing innovation and business impact, driving customer satisfaction, and winning new customers.
"We are honored to recognize STS of Jordan as a Microsoft Country Partner of the Year," said Ron Huddleston corporate vice president, One Commercial Partner, Microsoft Corp. STS is a prime example of the expertise and innovation we see in our Microsoft partner community to deliver transformative solutions."
The Microsoft Partner of the Year Awards recognize Microsoft partners that have developed and delivered exceptional Microsoft-based solutions during the past year.
It has to be noted that STS has already won numerous awards from Microsoft; most notably being named the Microsoft Windows Vista OEM Champion Award 2008, the Microsoft Small Business Specialist 2011, and the Microsoft Country Partner of the Year 2016 for Jordan.