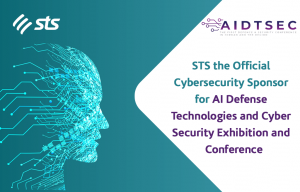 In line with its corporate identity of leading the Cybersecurity and data protection scene in Jordan and MENA; STS has announced its sponsorship as the Official Cybersecurity Partner for the Artificial Intelligence Defense Technologies and Cyber Security Exhibition and Conference, organized by SOFEX. The first edition of this conference is under the patronage of His Royal Highness Crown Prince Al Hussein bin Abdullah II and will be taking place on the 26-27 of November in King Hussein bin Talal Exhibition Center-Dead Sea.
The event will be attended by His Excellency Ahmad Al Hanandeh, the Minster of Digital Economy and Entrepreneurship and a number of official representatives from the government and private sectors.
The conference aims to gather the leading experts in artificial intelligence and defense technologies along with decision makers to discuss the latest updates in the artificial intelligence industry and the challenges it faces. Additionally, it will be an opportunity for expertise transfer and strategies building that aims to lead artificial intelligence as it acts as a focal meeting point between service providers and users. Moreover, the exhibition will showcase the latest technologies and innovations in the sector, that will assist in finding vital solutions for the defense industry and big data, in addition to data analytics and protection and cybersecurity.
Commenting on the participation; Aiman Mazahreh, CO-Founder and CEO Of STS said: "We are glad to be the official cybersecurity sponsors at this exceptional event, as it taps on the role we currently adopt and work on reinforcing with cybersecurity and data protection being the main foundations to achieve any real digital transformation. It is also a main pillar to enhance the digital systems safely and successfully."
"Cybersecurity is no longer an option, it is a main priority that needs to be instilled within our plans so we do not risk the safety of our organizations and our nation. And we hope that during this event we will be able to produce outcomes that will enable us expand our expertise and applications in this sector and elevate our AI and cybersecurity systems portfolio on a national level."
STS is committed to providing impeccable solutions in the various fields of cybersecurity and digital transformation and has led the way in easing this fast-paced transformation 1989 and until this very moment.