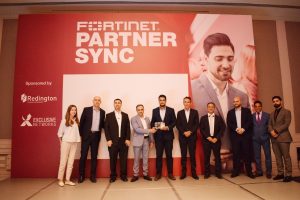 For the 2nd Consecutive Year
STS, the leading company in providing complete all-round Information Technology (IT) solutions in Jordan and the region, announced today it was named Fortinet's Jordan best growing partner of the year.
STS was honored during Fortinet's Partner SYNC conference, an annual gathering of more than 6 partners in Jordan. The Fortinet Partner of the year awards recognize outstanding cybersecurity sales, customer experience, collaboration and marketing achievements from the company's distributors, resellers and service providers.
This achievement, for the second year consecutive, was a proven result of STS' dedication to providing the latest innovations and advanced technologies along with its commitment to be the reliable technology partner of choice in MENA region. In addition to successfully gaining all advanced technical certificates to guarantee a sustainable long-term partnership with its clients.
Ibrahim Elmourdea, General Manager of products and solutions, STS: "Receiving this award is a clear recognition for the market as STS is a major IT company in the region. Our objective is to continue making this collaboration a success for many years, to provide to our customer the best security solutions thanks to Fortinet".
This outstanding triumph for STS is yet another milestone on the route of success that the company has paved in its strategy and framework of implementing the latest technology solutions for businesses in Jordan and the region.
Adel Hijazi, Regional Enterprise Director (North Gulf, Levant & Iraq), Fortinet, commented: "We are pleased to see STS winning this award for the second consecutive year. This recognition demonstrates their strong growth as well as their commitment towards Fortinet".