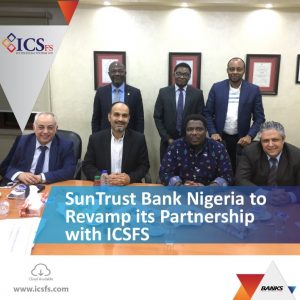 Amman, Jordan: SunTrust Bank Nigeria, a privately held commercial bank in Nigeria, has recently conducted an executive incentivised meeting with ICS Financial Systems Limited (ICSFS), the global software and services provider for banks and financial institutions, to revamp its partnership and roadmap.
The meeting was held at ICSFS' Jordan Center of Excellence, where the new executive management team of SunTrust discussed its historically strong partner relations with ICSFS, the adoption of new products and the latest features of ICS BANKS, and conferred its roadmap and future growth.
SunTrust Bank Nigeria is poised to create value for its customers by leveraging on its competencies and a team of highly motivated staff, the bank work tirelessly to develop and provide a broad range of unique financial services and products to consumers, small business, corporations, governments, and institutions with that will positively impact their business.  The meeting joint ICSFS' executive management and SunTrust's executives; Chief Executive Officer; Ayo Babatunde, Head of Internal Control; Innocent Mbagwu, Head of Information Technology; Chiso Onyeso and SunTrust's Systems Control; Olushola Seidu.