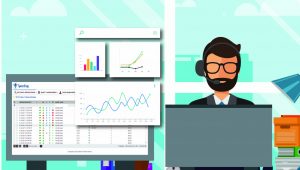 Globitel, a leading telecom and customer care solutions provider, announces that Ooredoo Qatar, has deployed Globitel's SpeechLog bundle which consists of SpeechLog Call Recorder, SpeechLog Quality and SpeechLog Analytics. In addition, Globitel Dashboard, a functionality of Globitel Performance Management Platform developed as a separate module, was also deployed.
Globitel cooperated with Ooredoo Qatar to deploy the solutions at their call centers which will yield positive results for Ooredoo in terms of improving customer service and agent performance. The solutions acquired by Ooredoo Qatar will function together to comply with their needs.
The SpeechLog bundle records interactions and screen captures agent computer actions, performs quality assurance on calls, and transcribes interaction audio into text. The purpose of the transcription is to accurately analyze both written and spoken formats to extract relevant and vital business intelligence regarding the customer experience using innovative speech analytics technology.
While Globitel Dashboard, which is integrated with SpeechLog and Ooredoo's telephony system, displays the call centers' KPI's and various performance metrics through a single interface. The highlight of all is speech analytics technologies that will offer priceless results, aiding Ooredoo in making smart and timely decisions. Not to mention its adaptability in analyzing English and Arabic, as well as an requested language according to business needs; such as Urdu in the case of Ooredoo Qatar.
The decision to acquire solutions aimed at improving the customer experience and agent performance came from Ooredoo's dedication to their customers and their unrelenting pursuit of full satisfaction from the service provided. The overall objective of this investment move is a strategic one; simple and smooth operations at call centers. The forecasted results of these deployments include cost savings from enhanced operations, quality improvements, performance level increases, and much more.
Mr. Sharif Nabulsi, CEO of Globitel
"A telecom giant such as Ooredoo, with a footprint spanning continents and offers services for millions of users, is already in a great position in the market. And maintaining that status requires consistent management and improvement to services provided. Investing in customer-oriented solutions helps them cement their standing in the market as an operator with the interests of their subscribers at the utmost priority."
Representative of Ooredoo Qatar
"We are governed by three principles at Ooredoo Qatar; customer experience, profitable growth, and execution excellence. Each element complements the other in harmony; a harmony we dedicate all our resources and manpower to maintain. This harmony is contextualized by measuring the effectiveness of our performance through the most important testimony; our customers. Through the SpeechLog bundle, we find ourselves in possession of an inventory of consumer insights that will allow us at Ooredoo to become consumers' top choice. A snowball effect resulting from those insights is the subsequent managing of agents to effectively act on the derived information."