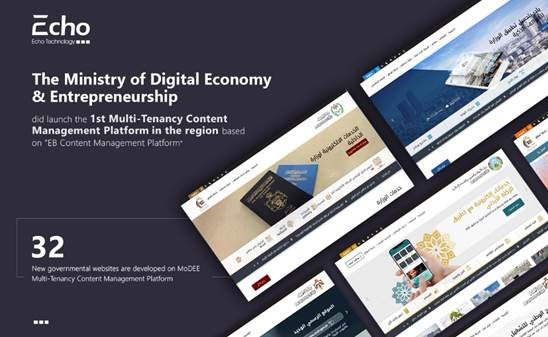 In collaboration with Echo technology, the Ministry of Digital Economy and Entrepreneurship had launched the 1st Multi-Tenancy Websites Content Management Platform in the region based on "EB Multi-Tenancy Content Management Platform "
The platform's main objectives are to reduce the cost of managing and operating the Jordanian governmental websites, enhance the quality of the digital content and provide easy-to-use managing and reporting tools besides the fast and rapid website development.
The "EB Multi-Tenancy Content Management Platform" does provide advanced tools for developing unlimited numbers of websites rapidly. Where the project included the design and development of 32 ministries and governmental bodies' websites based on the Jordan Government Websites standards that was published in collaboration of Echo Consulting services on August 2019.
The platform approach secures the integration between both "EB End Point Management" and "EB CMS Extreme Web" to enable the full administration of the websites on both entity level and entire government level