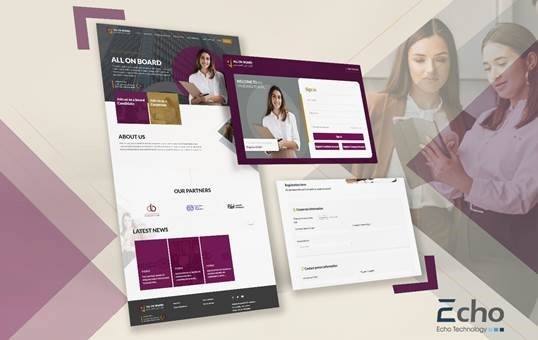 In close collaboration with the International Labour Organization (ILO) and AMAM Ventures, the Association of Banks in Jordan launches "All on Board" Platform in collaboration with Echo Technology under the domain www.allonboard.jo. The platform's main objective is to empower women in the banking and economic sector and increase the percentage of women's representation in its leadership positions.
The platform aims to increase diversity and improve the gender balance by linking competent and experienced female professionals to leadership corporate board positions opportunities, where it acts as a repository of female professionals' profiles across various economic sectors and specializations to facilitate their recruitment by banks and other corporates to board positions. All through providing them the opportunity to register in the platform and fill out the required qualifications and skills information.
Moreover, the platform also enables corporates to create company accounts to facilitate the process of reaching the right and eligible candidates following to the qualifications and skills requested by the firm. The platform was designed and developed following to the latest trends and technologies in web development to achieve business goals and objectives.