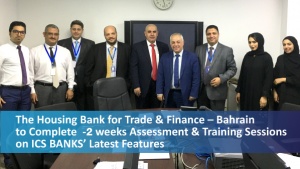 ICSFS conducted a two-week intensive assessment and training sessions that were held at the Housing Bank for Trade and Finance (HBTF) in Manama, Bahrain.
The assessment and training attendees were from HBTF senior executives, where the program covered the latest features of ICS BANKS Core Banking including front and back office branch operations services, Remittances, Credit Facility & Risk Management, Trade Finance, latest Lending products and features, Internal Audit and Control reporting, and part of ICS BANKS Digital Banking products.
The Housing Bank for Trade & Finance management was very impressed with ICS BANKS' innovative products and features that will nurture their own products and services. HBTF – Bahrain is currently doing UAT for new lending products to be implemented end of January 2020.
The Housing Bank for Trade & Finance is one of the dominant banks in Jordan, and have established its offshore Bahrain branch in 2003.