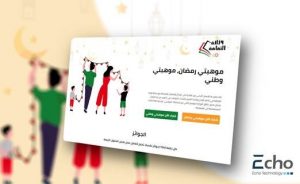 Celebrating the holy month of Ramadan, the Ministry of Culture launches Mawhebati Portal in collaboration with Echo Technology under the domain https://mawhebati.gov.jo in line with the ministry message to stimulate creativity and provide opportunities for talents to express their creativity productively and following the latest international standards and best practices in terms of portals design and development.
The platform aims to provide an opportunity to discover talents, motivate and develop them, give a character of participation and interaction between youth and children, and achieve the optimal investment of their energies. In addition, the platform highlights the conditions and instructions for the competition participating, as well as the sponsors.
The contestant should visit Mawhebati platform and fill out the participation form on the platform, then paste the link for the participation content in the field designated for that in the form to join the competition.