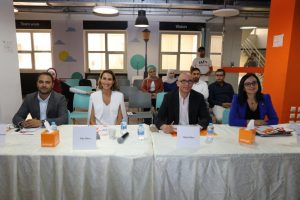 Three start-ups won in the third local edition and the ninth global edition of the Orange Social Venture Prize (OSVP).The jury of the prize evaluated the projects of seven companies that were qualified to the final stages, choosing winners of the first three places.  This came after the participants presented their innovative projects in front of a special committee that evaluated these projects with high accuracy. The names of these companies will be announced next month.
According to Orange Jordan, the three winning companies will receive a cash prize of JD 4,000 for the first winner, JD 3,000 for the winner coming in second place, and 2,000 JD for the winner of the third place. Winners will also have the opportunity to participate in the international version of the prize, which will be held in November, in South Africa, where this competition represents an opportunity for them to compete for one of its prizes which amount to 25,000, 15,000, and 10,000 Euros for the three prizes.
Orange Jordan opened the registration to participate in OSVP from March to September, targeting projects that offer innovative solutions that respond to the needs of community in different areas such as health, agriculture, education, energy, commerce and industry.
Due to the importance of the prize a  jury with expertise in entrepreneurship has been formed and consisted of: Chief Executive Officer of Abd Al Hamid Shoman Foundation, Valentina Kassisieh, Deputy Executive Director at The Jordanian Hashemite Fund for Human Development (JOHUD), Mohammad Al-Amoush, CEO at Information and Communications Technology Association – Jordan (Int@j), Eng. Nidal Bitar, Director of Strategy & Partnerships at Crown Prince Foundation, Mais AlDaoud, pioneer Fida Taher and PR, CSR, and Corporate Communication Director at Orange Jordan, Rana Al Dababneh..
This prize falls in line with is in line with Orange Jordan's CSR plan, through which the company aims to capitalize on and invest in the talents of the local community, especially young entrepreneurs, whom the company keen to support through providing training programs, financial support and professional expertise, in order to help them turn their ideas into real projects on ground, contributing to the development of the local community and advancing the overall development of the Kingdom.