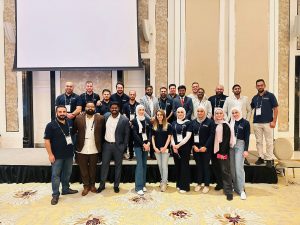 Amman, Jordan – The IT community in Jordan gathered for a transformative seminar, "ITCON," organized by TJDEED in collaboration with ManageEngine. The event brought together IT professionals from various local and private companies across sectors to delve into the latest advancements in IT service management, security, and automation.
The seminar revolved around a range of critical topics including Service Desk Transformation, Active Directory Automation, Desktop and Mobile Management, IT Operations Monitoring, and IT Security Strategies.
Abdullah AlSreheen, Country Manager at TJDEED explained the strategic partnership between TJDEED and ManageEngine, stating, "The enduring partnership between TJDEED and ManageEngine spans over 13 years, during which we've proudly evolved into a gold partner. This reflects both the robust support we receive from ManageEngine and our technical team's unwavering dedication to meeting international support standards and elevating the customer experience."
AlSreheen added: "Over this period, we've witnessed an escalating demand for ManageEngine products. Their commitment to efficiency and differentiation in the market has been exemplary. We consistently collaborate on seminars, held one to two times annually, which exemplify ManageEngine's continuous support and keen interest in the Jordanian market".
Ibrahim Almasri, Service Delivery Manager at TJDEED, emphasizes orchestrating IT Department Activities using ManageEngine ServiceDesk Plus (SDP) saying: "Orchestrating IT department activities using ServiceDesk Plus (SDP) is of paramount importance in our field. It not only reduces operational costs but also minimizes human errors and accelerates incident response times. Service Management tool stands at the core of this orchestration and automation journey for two compelling reasons. First, it aligns seamlessly with ITIL best practices, ensuring that all IT processes adhere to industry-leading standards. Second, SDP comprehensively encompasses a wide array of IT activities, from managing security incidents and HR requests to end-user support, infrastructure changes, application releases, and asset management.
AlMasri added: "With this wealth of information at our disposal, we can seamlessly trigger actions by interfacing with other critical systems such as Endpoint Management, Active Directory tools, and Network Performance Management. What's more, we can readily integrate with third-party tools through API integration or RBA, adding a layer of flexibility to our orchestration efforts."
Prasanna Venkatesh Srinivasan, Channel Manager at ManageEngine said: "ManageEngine's service portfolio continues to expand, and we are experiencing rapid growth globally. We are proud to announce that most of our products are Gartner recognized, a testament to our commitment to innovation and excellence."
Regarding ManageEngine partnership with TJDEED Srinivasan said: "From the outset, we've held a distinct focus on the Middle East market, with a particular emphasis on Jordan. We have consistently expressed this commitment through our valued partnership with TJDEED. As a local company with an extensive track record of expertise, a strong regional presence within the MENA Region, a substantial customer base, TJDEED has played a pivotal role in supporting ManageEngine's endeavors".
The seminar served as a valuable platform for professionals to gain hands-on knowledge. With an exceptional turnout, and the high level of engagement and enthusiasm from the attendees ITCON proved to be a significant step forward in fostering innovation and collaboration in Jordan's IT sector.