Dries Buytaert, the founder of Drupal and Acquia CTO, released his annual report that recognizes the top contributing organizations and individuals to the Drupal project.
Despite the global pandemic, 2020 was a milestone year for Drupal as the newest iteration, Drupal 9 was released on time thanks to the combined efforts and commitment of the amazing Drupal community worldwide.
Vardot's contributions have been recognized as we ranked 17th amongst the top 30 contributing organizations worldwide which in turn led to the recognition of Jordan (ranking 18th out of 30) as one of the top contributing countries to Drupal.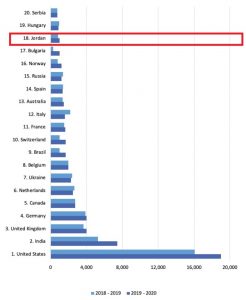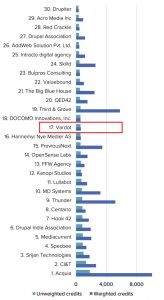 Source: Dries Buytaert
Jordan is the only country from the Middle East and North African region to be ranked in the top 20.
Source: Dries Buytaert
Rajab Natshah, a senior software engineer at Vardot was recognized for his role in preparing essential modules and solutions for Drupal 9, namely, Varbase – the multilingual enterprise CMS and Drupal 9 Distribution.
Rajab's efforts ranked him 11th worldwide.
Source: Dries Buytaert
Throughout the year, he tirelessly spearheaded the effort of upgrading the hundreds of features packed in Varbase in addition to adding new tools such as built-in content translation and the all-new Layout Builder which enhanced the ability of websites around the world using Varbase to provide the best, rich and dynamic user experience possible.
As of early November, Vardot released Varbase 9.0.0 (beta) to enable the Drupal 9 project and site builders to experiment and test the new Drupal 9 features that Varbase offers them.
With over 70 modules contributed and 100+ projects supported; Vardot has been a Drupal Association Support Partner and sponsor of the Promote Drupal Initiative for almost a decade now. Moreover, we have committed a segment of our time to contribute numerous Drupal modules free-to-use by the entire community. Our Drupal contributions have been downloaded over 250k times by the global open-source community.
Vardot is proud and thankful for the recognition and we reaffirm our commitment to always add value to the Drupal and Open Source communities in their bid to create a better tomorrow through open-source technologies.