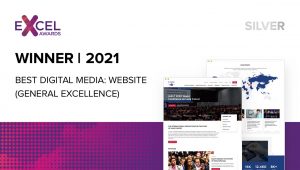 Vardot is glad to announce it has won the 2021 Excel Digital Media Silver Award in the Website (General Excellence) category for redesigning and rebuilding the International Association for the Study of Lung Cancer (IASLC) website.
The website was judged on criteria that included effective use of interactive elements, overall effectiveness, quality of design, content, writing, and copyediting, editorial, and graphic unity, and overall experience.
Vardot and Curzio Communications worked on the revamp project together to provide a better experience overall, ranging from on-site SEO and better UX engagement to retain visitors to more editorial features to make content management easier for the admins.
Top achievements for the IASLC website are:
Ranking Higher on Search Engines:  Implementing an SEO-friendly content structure supported by on-site SEO best practices, including the ability to search for content—a feature that wasn't available in their legacy website or CMS.
Engagement-driven UX Design: UI/UX revamp of the static design and transforming the homepage and all key webpages into engaging dynamic landing pages to maximize conversion and engagement rates.
More Related Content Linking: This was done across the different sections of the site to allow for documents, videos, and articles to be in one place to allow the user to see them together.