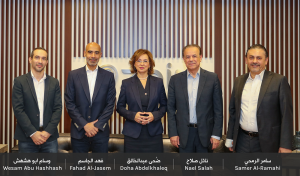 ESKADENIA Software, a leading provider of best-in-class business systems that accelerate digital transformation, is proud to announce its new strategic collaboration with Zain Jordan, the first and a leading operator of mobile voice and data services in Jordan.
ESKADENIA Software provided Zain Jordan with its all-inclusive & feature-rich Telecom Collection Management Suite, ESKA® Collections. ESKA® Collections is a comprehensive suite for managing debt collection processes through advanced functionalities covering all stages of dunning and collection management. The suite consists of three main fully integrated systems: ESKA® Dunning & Collection, ESKA® Dispute Manager, and ESKA® Legal. Collectively, these systems work seamlessly together to administer, orchestrate, and monitor the various processes in the different areas of collections management, from dunning and dispute management to bad debt tracking and legal matter management.
Utilizing an agile approach, the systems were deployed incrementally in phases where Zain Jordan started to reap the benefits of the systems as soon as the first phase of the project was delivered. The final phase was finalized last month, and the major telecom provider is now enjoying the full range of benefits this software suite provides. This great success was due to the dedicated work and collaboration of the mutual project team made up of professionals from both, Zain Jordan, and ESKADENIA Software.
By deploying ESKA® Collections, Zain Jordan is boosting its capabilities to handle hundreds of thousands of daily transactions efficiently and timely. Implementing ESKA® Collections will further enable Zain Jordan to significantly transform and enhance its daily operations, customer interactions, response time, and financial processes.
ESKA® Collections' capability to personalize collection strategies based on customer personas enables businesses to greatly enhance customer experience and retention. The software empowers enterprises to have transparent cashflow and continue to enhance their collection procedures through fully digitalized workflows, advanced monitoring, intelligent reporting, and dynamic dashboards.
This step comes as part of Zain's strategy towards digitizing and automating of all the services and operations of Zain Jordan, to maximize the usage of the resources and to ensure time and effort efficiency that is required to complete the process, in which it will reflect positively on the performance and contributes to best ending results.
This major joint project demonstrates the determination of both parties to set a leading example of digitalizing business processes and optimizing work routines in the Telecom industry and to utilize technology innovations for business improvements and revenue assurance.
"ESKADENIA Software is delighted to be the supplier of choice for Zain Jordan in the areas of dunning, collection, and legal staff management. The system has been thoroughly integrated with all needed existing Telecom systems to provide completely automated and seamless processes. We are glad for the amazing cooperation with the very competent Zain Jordan IT staff to deliver the project exactly on time and with a high level of product quality and stability," stated Nael Salah, Managing Director & Founder – ESKADENIA Software.